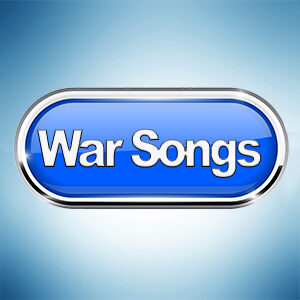 War Songs Backing Tracks All The Nice Girls Love A Sailor, A Nightingale Sang in Berkley Square, It's A Long Way to Tipperary, We'll Meet Again, Wish Me Luck As You Wave Me Goodbye
Our collection of backing tracks and sheet music of popular songs from the War Years:
Scroll down for a list of songs from World War One, The Christmas Truce and World War Two.
| Listen | Song Title | Artist | Genre | BV | Price | Buy |
| --- | --- | --- | --- | --- | --- | --- |
World War One (WW1)
Many of the songs the soldiers sang in the First World War seem to have a simple innocence about them which somehow reflects their time. A time when people felt that right was on their side: that they were fighting to make a land fit for heroes to live in: that a bright shining future would be theirs when it was all over. Music Hall and Traditional songs were still popular at the time of the First World War and were sung to keep up morale.
Other songs, later in the war, reflect a growing cynicism, an acceptance that mens lives would be needlessly lost, that perhaps, after all, this was not going to be 'the war to end all wars'.
Whatever the type of song and however simple and repetitive some of the lyrics may be, these songs are lifted far above themselves by the memories attached to them, of the great comradeship that war in the trenches kindled. A universal brotherhood which was not to be felt again until the time of the Blitz in the Second World War.
World War One Backing Tracks – All The Nice Girls Love A Sailor … A Nightingale Sang in Berkley Square … Apple Blossom Time … Bless 'Em All … Boogie Woogie Bugle Boy … Bye Bye Blackbird … Dad's Army Theme Tune … Don't Dilly Dally … For He's A Jolly Good Fellow … Good-Bye-Ee … Goodbye Dolly Gray … I'll Be Seeing You … If You Were The Only Boy/Girl In The World … I'm Forever Blowing Bubbles … It's A Long Way to Tipperary … Keep The Home Fires Burning … Kiss Me Goodnight Sergeant Major … Land Of Hope And Glory … Lili Marlene … My Life Will Never Be The Same … Now Is The Hour … Oh It's A Lovely War … Pack Up Your Troubles … Roses Of Picardy … Run Rabbit Run … Shine On Harvest Moon … Show Me The Way To Go Home … Side By Side … Take Me Back To Dear Old Blighty … There'll Always Be An England … Underneath The Arches … We'll Meet Again … We're Gonna Hang Out The Washing On the Siegfried Line … When The Lights Go On Again … White Cliffs of Dover … Who Do You Think You Are Kidding … Wish Me Luck As You Wave Me Goodbye … You Are My Sunshine …
The Christmas Truce (WW1)
THE "Christmas truce" is a term used to describe a series of unofficial cessations of hostilities that occurred along the Western Front during Christmas 1914. World War One had been raging for several months but German and Allied soldiers stepped out of their trenches, shook hands and agreed a truce so the dead could be buried. The soldiers also used that truce to chat with one another, sing carols and, some claim, even play a football match. Unofficial truces between opposing forces occurred at other times during World War One but never on the scale of that first Christmas truce.
Christmas Truce Backing Tracks – Auld Lang Syne … Good Christian Men Rejoice … Good King Wenceslas … Hark The Herald … O Come All Ye Faithful … Onward Christian Solider … See Amid The Winter Snow … Silent Night … The First Noel …
World War Two (WW2) Backing Tracks
This was the era of big bands and swing music and this was reflected in the songs of the time. World War Two produced a significant number of popular songs, ranging from patriotic songs, sentimental songs about soldiers, sailors and sweethearts, and moral boosters. As with WWI, these songs reflected the mood and the memories of the time. Many a sing-a-long was had to keep people's spirits up during the long, hard years of war. As the war approached its end, songs took on the feelings of home-comings and dreams of re-union. Artists such as Vera Lynn, Billie Holiday, Ella Fitzgerald, Judy Garland, Glen Miller, Andrews Sisters, Gene Autry, Frank Sinatra, Nat King Cole, Edith Piaf, Frankie Lanie, Louis Armstrong, George Formby, Bing Crosby, Gracie Fields, Fred Astaire were also very popular during the time.
Music style has changed over the years, but these songs will never die. They are still as popular today and are often sung whenever people get together for a sing-a-long. As the anniversaries of these wars pass by, and the people who fought in them are sadly no longer with us, these war songs will still be sung and the spirit of their struggle will live on and never be forgotten.
War Songs Backing Tracks
All The Nice Girls Love A Sailor … A Nightingale Sang in Berkley Square … Apple Blossom Time … Bless 'Em All … Boogie Woogie Bugle Boy … Bye Bye Blackbird … Dad's Army Theme Tune … Don't Dilly Dally … For He's A Jolly Good Fellow … Good-Bye-Ee … Goodbye Dolly Gray … I'll Be Seeing You … If You Were The Only Boy/Girl In The World … I'm Forever Blowing Bubbles … In The Mood … It's A Long Way to Tipperary … Keep The Home Fires Burning … Kiss Me Goodnight Sergeant Major … Land Of Hope And Glory … Lili Marlene … My Life Will Never Be The Same … Now Is The Hour … Oh It's A Lovely War … Pack Up Your Troubles … Roses Of Picardy … Run Rabbit Run … Shine On Harvest Moon … Show Me The Way To Go Home … Side By Side … Take Me Back To Dear Old Blighty … There'll Always Be An England … Underneath The Arches … We'll Meet Again … We're Gonna Hang Out The Washing On the Siegfried Line … When The Lights Go On Again … White Cliffs of Dover … Who Do You Think You Are Kidding … Wish Me Luck As You Wave Me Goodbye … You Are My Sunshine …