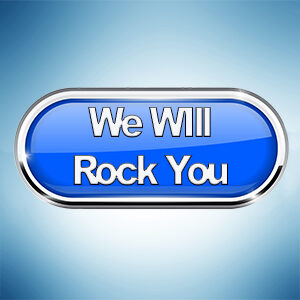 We Will Rock You Backing Tracks – Somebody To Love, I Want To Break Free, We Will Rock You, Don't Stop Me Now,
Based on the music of Queen, We Will Rock You is set 300 years in the future in a futurist and globally corporate world. Planet Earth has been renamed the Planet Mall and is controlled by the Globalsoft Corporation.
The head of Globalsoft is the sinister Killer Queen, who has banned all non-computer generated music. She has heard of a prophecy that instruments have been hidden somewhere on the planet and that 'The Dreamer' will emerge from the people to show the way to them. She orders her Chief of Police, Khashoggi, to get to the bottom of the matter and crush any rebellion.
Meanwhile, Galileo, a young student and outsider, is desperate to "break free" from this corporate world. He hears lyrics in his dreams and is heralded as the star of the prophecy by the Bohemians who have been searching for the lost instruments. To fulfill the prophecy. Galileo must evade the clutches of the Killer Queen and finally bring back the music. With the help of Pop, an aging hippie librarian, Galileo and Scaramouche find Rock's Holy Grail–Brian May's guitar–buried in the remains of Wembley Stadium.
Another One Bites The Dust …  Bohemian Rhapsody …  Don't Stop Me Now …  Flash …  Hammer To Fall …  Headlong …  Innuendo …  It's A Kind Of Magic …  I Want It All …  I Want To Break Free …  Killer Queen …  No-One But You (Only The Good Die Young) …  One Vision …  Play The Game …  Radio GaGa …  Seven Seas Of Rhye …  Somebody To Love …  These Are The Days Of Our Lives …  Under Pressure …  We Will Rock You …  We Are The Champions …  Who Want's To Live Forever …  We Will Rock You (The Musical) – Backing Tracks …
| Listen | Song Title | Artist | Genre | BV | Price | Buy |
| --- | --- | --- | --- | --- | --- | --- |