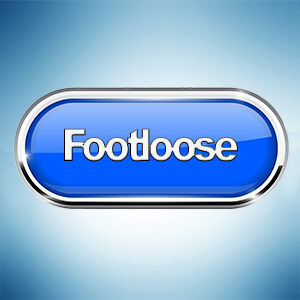 Footloose is a 1984 American comedy drama film directed by Herbert Ross. In 1998, a musical was created by Tom Snow. Lyrics were by Dean Pitchford (with additional lyrics by Kenny Loggins).
It tells the story of Ren McCormack, a teenage boy from Chicago. He and his mother move to the small town of Bomont after his father abandons them. Upon arriving, Ren finds himself at odds with most of the town, including the Reverend Bomont.
The Reverend has convinced the town to outlaw dancing, which Ren finds unbelievable. With the help of the Ariel (the Reverend's daughter) and Willard (a country hick who becomes his best friend), Ren convinces the Reverend to let the teenagers dance, and in the process helps the town to heal from a tragedy that affected them all.
Footloose Backing Tracks – Almost Paradise … Dancing In The Sheets ….  Footloose … Footloose On Any Sunday … Heaven Help Me … Holding Out For A Hero … Hurts So Good …  I Can't Stand Still … I'm Free – Heaven Helps The Man … Let's Hear It For The Boy … Never  … Somebody's Eyes  … The Girl Gets Around … Waiting For A Girl Like You …
| Listen | Song Title | Artist | Genre | BV | Price | Buy |
| --- | --- | --- | --- | --- | --- | --- |