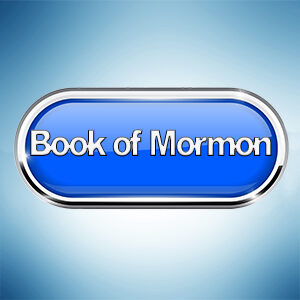 Book Of Mormon
The hit Broadway musical The Book of Mormon, written by "South Park"'s Trey Stone and Matt Smith and Frozen's Robert Lopez, is an irreverent, hysterical, and surprisingly sweet send-up of religion, culture shock, and classic musical theatre.
In The Book of Mormon, two very different young LDS missionaries– the talented, eager Elder Price and the nerdy, pathologically lying Elder Cunningham– are paired together and sent to Uganda to perform their two-year mission. To the missionaries' disappointment, the local population seems to be more focused on the poverty, famine, AIDS epidemic, and the despotic warlord in their midst rather than religion. It's going to be a fight for salvation.
While Elder Price combats his own expectations and doubts, Elder Cunningham battles his inability to remember scripture or tell the truth, fellow missionary Elder McKinley crushes his homosexual urges, and the beautiful Ugandan Nabalungi fights to keep her hopes and dreams alive in the midst of great terror and uncertainty. It will take a little inventiveness, a lot of teamwork, and perhaps an excommunication or two for the Elders to succeed in their mission.
Book Of Mormon Backing Tracks –
All American Prophet  …   Baptise Me   …   Bows   …   Exit  …   Hasa Diga Ebowai   …   Hello   …   I Am Africa   …   I Am Here For You  …   I Believe  …   Making Things Up Again   …   Man Up   …   Orlando   …   Sad Hasa Diga   …   Sal Tlay Ka Siti   …   Spooky Mormon Hell Dream   …   Tomorrow Is A Latter Day   …   Turn It Off  …   Two By Two  …   You And Me (But Mostly Me)   …
| Listen | Song Title | Artist | Genre | BV | Price | Buy |
| --- | --- | --- | --- | --- | --- | --- |