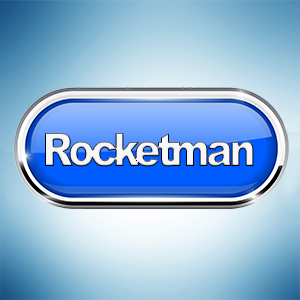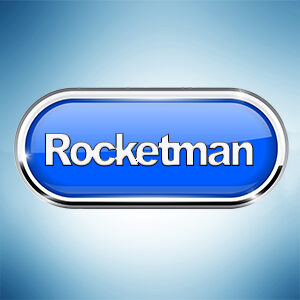 Rocketman Backing Tracks – Rocket Man, Your Song, Sorry Seems To Be The Hardest World, Goodbye Yellow Brick Road, Tiny Dan
Rocketman is a 2019 biographical musical film based on the life of British musician Elton John and follows him from his childhood as a prodigy at the Royal Academy of Music, through his musical collaboration with Bernie Taupin (who wrote the lyrics for Eltons songs) and beyond to the time when drugs and alcohol fuelled him.
Elton John played an active part in the production of the film, serving as an executive producer on the film and an adviser to the the actor who portrayed him.
| Listen | Song Title | Artist | Genre | BV | Price | Buy |
| --- | --- | --- | --- | --- | --- | --- |
Dressed in a flamboyant devil's outfit, Elton John enters an addiction rehabilitation session, recounting his life in a flashback ("The Bitch Is Back").
Reginald Dwight grows up in 1950s Britain, raised by his unaffectionate mother, Sheila, and more loving grandmother Ivy. Reginald is interested in music and hopes to perform for his father, Stanley, who takes no interest in his son ("I Want Love").
Reginald begins piano lessons, making his way into the Royal Academy of Music. Stanley abandons his family after Sheila has an affair. Reginald develops an interest in rock music and performs in local pubs ("Saturday Night's Alright for Fighting"). As an adult, Reginald joins the band Bluesology, which is hired to play backup for touring American bands, The Isley Brothers and Patti LaBelle and the Blue Belles ("Breaking Down the Walls of Heartache"). Isley Brothers lead singer Ronald Isleyrecommends Reginald write songs and put his old life behind him to become a famous artist. Reginald changes his name to Elton John, Elton being the name of the saxophonist of Bluesology, and John being adopted from John Lennon.
Elton writes music and tries to find success with Dick James' record label DJM Records under the management of Ray Williams. Williams introduces Elton to lyricist Bernie Taupin; they become friends and move into a flat to compose their songs ("Border Song"). When Elton admits he is homosexual, he ends his romantic relationship with their landlady, and he and Bernie are evicted.
Elton and Bernie move in with Elton's grandmother, his mother, and her boyfriend, where they continue writing and create "Your Song". James sets up a performance for them at the Troubadour in Los Angeles. Elton is nervous before his debut, but the audience embraces his performance ("Crocodile Rock"). Elton is overjoyed by his success but feels abandoned when Bernie leaves him at a party to spend time with a woman ("Tiny Dancer"). He is approached by John Reid, a music manager. They sleep together and later reunite.
Reid's influence over Elton launches a downward spiral into a life of debauchery while his career rises to new heights ("Honky Cat"). Elton develops a flamboyant stage persona and becomes one of the most successful artists of the 1970s. Reid's manipulation escalates to abuse after he becomes Elton's manager. Reid insists Elton comes out to his parents as gay, so Elton reconnects with his father, who has a new family but still displays no interest in Elton. Distraught, Elton calls his mother and tells her he is gay. She tells him that she already knew, but that he will be forever unloved. Struggling with parental issues as well as Reid's increasing physical and emotional abuse, Elton becomes addicted to alcohol, cocaine, cannabis, shopping, and sex to escape his pain and loneliness, but his mood swings and short temper alienate his friends ("Pinball Wizard").
Elton catches Reid cheating on him and breaks off their relationship, but Reid continues as his manager. During a party, he binges on drugs and alcohol and attempts suicide by jumping into his pool. He is rushed to the hospital, then thrust on stage at Dodger Stadium to perform ("Rocket Man").
Elton descends further into a life of drugs, alcohol, and loneliness ("Bennie and the Jets"). He has a short-lived marriage with a close female friend, Renate Blauel, but his homosexuality dooms their relationship ("Don't Let the Sun Go Down on Me"). He falls out with his mother and Bernie ("Sorry Seems to Be the Hardest Word"). Elton's dependence on prescription pills and alcohol result in a heart attack. Realizing his life is out of control, Elton seeks help ("Goodbye Yellow Brick Road"). He enters rehab and realizes he no longer needs support from his parents or Reid. Elton rekindles his friendship with Bernie, who brings him new lyrics. Elton is worried that he cannot perform or compose without alcohol or drugs, but writes "I'm Still Standing" and returns to a successful career.
The epilogue notes that Elton has been sober for over twenty-eight years, but "still has issues with shopping". He remains good friends with Bernie and is married to David Furnish, with whom he has two children, and is "finally loved properly".
Rocketman Backing Tracks – Bennie & The Jets. … Border Song … Crocodile Rock … Don't Go Breaking My Heart … Don't Let The Sun Go Down On Me … Goodbye Yellow Brick Road … Honky Cat … I'm Still Standing … I Want Love … Pinball Wizard … Rocket Man … Saturday Night's Alright For Fighting … Sorry Seems To Be The Hardest Word … Take Me To The Pilot … The Bitch Is Back … Tiny Dancer … Your Song …