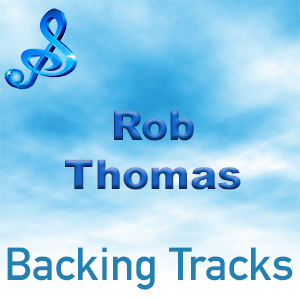 Rob Thomas Backing Tracks – Ever The Same … Her Diamonds … Little Wonders … Lonely No More … Mocking Bird … Street Corner Symphony … This Is How A Heart Breaks … Smooth …
Rob Thomas is an American singer / songwriter. He formed a band in 1993 which eventually became "Matchbox Twenty" and with which he is the main songwriter and lead singer. After being with the band for 10 years, Rob Thomas launched his solo career with the album "Something To Be" which shot straight to No 1 on the American Billboard charts and the first single "Lonely No More" reached No 6 on the singles chart.
Thomas earned Grammy Awards for co-writing and singing on the hit "Smooth" from the album Supernatural by Carlos Santana in 1999 and has also lent his songwriting talents to the likes of Tom Petty, Willie Nelson, Mick Jagger, Marc Anthony, Pat Green, Taylor Hicks, Travis Tritt and Daughtry.
Rob Thomas and his wife Marisol are animal lovers and support animal charities. They established the Sidewalk Angels Foundation, an organisation created to help people in and around America's big cities who cannot afford medical care, and animals that have been abandoned or abused.
| Listen | Song Title | Artist | Genre | BV | Price | Buy |
| --- | --- | --- | --- | --- | --- | --- |
Rob Thomas Backing Tracks
Ever The Same … Her Diamonds … Little Wonders … Lonely No More … Mocking Bird … Street Corner Symphony … This Is How A Heart Breaks … Smooth …