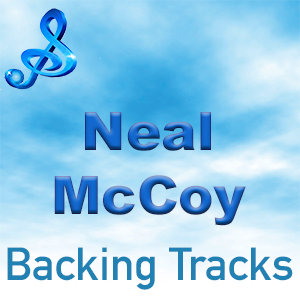 Neal McCoy Backing Tracks : No Doubt About It
Neal McCoy is an American country music singer who broke through into popularity with his track "No Doubt About It" in the 1990's.
| Listen | Song Title | Artist | Genre | BV | Price | Buy |
| --- | --- | --- | --- | --- | --- | --- |
He was brought up listening to a wide selection of music and sang in his church choir before joining an R&B band. He later switched his focus to country music, performing in various bars and clubs.
After winning a 1981 talent contest he secured a spot as an opening act for Charley Pride.
Neal McCoy signed to Atlantic Records in 1990 and had minor success with his first two albums before the release of his third album saw him realise two Number 1 country hits 'No Doubt About It' and 'Wink'.
Backing Tracks
No Doubt About It
Lyrics
Just like every lock's got to have a key
Every river flows looking for the sea
And when you plant a seed, it reaches for the sky
That's just the way it is, nobody wonders why
Like coffee needs a cup you know that it ain't much good without it
We were meant to be together, no doubt about it
Like a hammer and a nail, socks and shoes
We go hand in hand, like a rhythm and blues
What good is a man who hasn't got a dream
But as good as a car with no gasoline
You're the one I'm dreaming of got to have your love can't live without it
We were meant to be together, no doubt about it
No there ain't no doubt about it
Something was missing it was making me blue
But all I ever needed was you
Just like every lock's got to have a key
Every river flows lookin' for the sea
And when you plant a seed, it reaches for the sky
That's just the way it is, girl with you and I
Like coffee needs a cup you know that it ain't much good without it
We were meant to be together, no doubt about it
No there ain't no doubt about it
Like a hammer and a nail, socks and shoes
We go hand in hand, like a rhythm and blues
What good is a man who hasn't got a dream
But as good as a car with no gasoline
You're the one I'm dreaming of got to have your love can't live without it
We were meant to be together, no doubt about it
Neal McCoy Backing Tracks
No Doubt About It