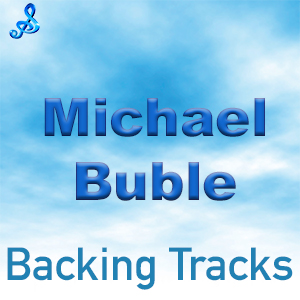 Michael Buble Backing Tracks – A Foggy Day … After All … All I Do Is Dream Of You … All Of Me … Always On My Mind …A Song For You … At This Moment … Beautiful Day … Be My Baby … Call Me Irresponsible … and more …
Michael Buble
Michael Buble is a Canadian Big Band singer, songwriter and actor who has sold over 75 million records worldwide. He has won numerous awards, including multiple Grammy and Juno Awards.
He grew up surrounded by the music of the likes of Ella Fitzgerald, Frank Sinatra and Tony Bennett and this is reflected in the style of his work. At the age of 17 Bublé entered and won a local talent contest and went on to win even more.
In 2003, Bublé's first major album was released. The self-titled record was a worldwide success, hitting No. 1 in Australia and reaching the Top 10 in the UK as well as Canada. He has since released several more hugely successful albums and singles and toured extensively.
| Listen | Song Title | Artist | Genre | BV | Price | Buy |
| --- | --- | --- | --- | --- | --- | --- |
About:
Bublé's big break came during a performance at a party for Michael McSweeney, a former advisor to the Canadian prime minister. McSweeney was so impressed with Bublé's performance that he began circulating the performer's independent album, which soon fell into the hands of Prime Minister Brian Mulroney and his wife. In 2000, the couple invited Bublé to sing at their daughter's wedding. At the event, he wowed the bride and her guests with a rendition of Kurt Weill's "Mack the Knife."
During the festivities, the singer was introduced to wedding guest David Foster, a Grammy-winning producer and Warner Bros. music executive. The following year, Foster signed Bublé to the 143 Records label, and the two began work on the singer's first major-label release.
2003 saw his first major album was released. The self-titled record was a worldwide success, hitting No. 1 in Australia, going multiplatinum in many countries, and reaching the Top 10 in the UK as well as Canada. The debut album incorporated Bublé's multifaceted talents, especially his aptitude for lending a pop style to old classics such as "Fever," "Moondance" and "How Can You Mend a Broken Heart?" A world tour followed, and Bublé ended 2003 with a disc of Christmas tunes entitled "Let It Snow."

In 2004, at the age of 28, Bublé officially arrived on the international music scene, winning Best New Talent at Canada's prestigious Juno Awards. His third album release, It's Time (2005), topped the success of his debut; it sold over five million copies worldwide and remained on the Billboard Jazz charts for two years. The album's single, "Home," was a fan favourite, which Bublé wrote it for long-term love Timuss, and featured her in the video as well as the backing vocals. The song shot to the No. 1 spot in more than 10 countries, and had the distinction of being the most played song on Canadian radio that year.

Later that year, Timuss and Bublé split amid rumours of his infidelity. News soon spread that the break-up had coincided with the emergence of a new relationship—a romance with British actress Emily Blunt. The pair had met backstage at an awards ceremony. Bublé later admitted he had no idea who she was at the time, and thought she was a television producer.

Bublé's third album, Call Me Irresponsible, was released in 2007, and the album debuted at No. 3 on the Canadian charts. That album brought the singer his first Grammy win, taking Best Traditional Pop Vocal Album. Bublé's critics and fans rushed to sing his praises, especially lauding the Timuss-inspired track "Lost." He reportedly wrote the track "Everything" for Blunt, but the couple parted ways in July of 2008. The broken romance didn't keep the musician from his success, however, and by the summer of that year Bublé had sold more than 18 million albums worldwide.

In December of 2008, Bublé branched out into the world of sports when he became a minority owner of the ice hockey team, the Vancouver Giants. He has also began taking on television projects, participating in a documentary called Music and the Brain on Canadian TV that discusses the scientific effects of music on human cognition. He then scored a special musical arrangement for a new episode of the hit American sitcom 30 Rock.

In October 2009, Bublé released Crazy Love, featuring duets with Sharon Jones and Ron Sexsmith, followed by a six-song album Special Delivery (2010) and Christmas, a holiday album featuring duets with Shania Twain and Mexican singer Thalia. In 2013, Bublé released To Be Loved, a mix of standards and pop songs, including a duet with actress Reese Witherspoon.
Michael Buble Backing Tracks
A Foggy Day … After All … All I Do Is Dream Of You … All Of Me … Always On My Mind …A Song For You … At This Moment … Beautiful Day … Be My Baby … Call Me Irresponsible … Can't Help Falling In Love With You … Christmas Sweater … Close Your Eyes … Come Fly With Me … Coming Home Baby … Crazy Little Thing Called Love … Crazy Love … Cry Me A River … Daddy's Little Girl (The Wedding Song) … Dream … Dream A Little Dream Of Me … Everything … Feeling Good … Fever … For Once In My Life … Georgia On My Mind … Grown Up Christmas List … Haven't Met You Yet … Heartache Tonight … Hold On … Hollywood … Home … How Can You Mend A Broken Heart … How Sweet It Is … I'm Your Man … It Had To Be Tonight … It's A Beautiful Day … I'll Be Seeing You … It's Beginning To Look A Lot Like Christmas … I've Got A Crush On You … I've Got The World On A String … I've Got You Under My Skin … Kissing A Fool … Lost … Love … Me & Mrs Jones … Moondance … More I See Of You … My Funny Valentine … My Melancholy Baby … Nice And Easy … Nobody But Me … Orange Coloured Sky … Peroxide Swing … Put Your Head On My Shoulder … Quando Quando Quando … Save The Last Dance … Smile … Softly As I Leave You … Some Kind Of Wonderful … Something Stupid … Song For You … Stuck In The Middle With You … Summer Wind … Sway … That's All … The More You Give (The More You'll Have) … The Way You Look Tonight … To Love Somebody … Up A Lazy River … Whatever It Takes … When You're Smiling … Wonderful World … You Always Hurt The One You Love … You And I … You'll Never Find Another Love Like Mine … You Make Me Feel So Young … You're Nobody Til Somebody Loves You …