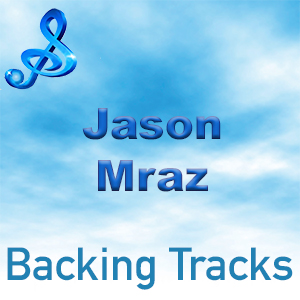 Jason Mraz Backing Tracks – 93 Million Miles … Bella Luna … Butterfly … Did You Get My Message … Everything Is Sound … Geek In The Pink … Have It All … I'm Yours … I Won't Give Up … Life Is Wonderful … Live High … Lucky … Make It Mine … More Than Friends … Plane … Remedy … Unlonely … Word Play … World As I See It … You And I … You Make Me High …
Jason Mraz is a singer/songwriter from California, USA. Following high school, he moved to New York to attend the American Musical and Dramatic Academy due to his interest in musical theatre but dropped out after a year to concentrate on writing music. He played bars in California until he eventually got a recording contract with Elektra Records.
| Listen | Song Title | Artist | Genre | BV | Price | Buy |
| --- | --- | --- | --- | --- | --- | --- |
2002 saw the release of his debut studio album and, in 2005, Mraz achieved major commercial success with his second album which peaked at number 5 on the Billboard 200 and sold over 100,000 copies in the US. In 2008, Mraz released his third studio album from which he released the hit "I'm Yours". The song peaked at number 6 on the Billboard Hot 100, giving him his first top ten single, and spent a then-record 76 weeks on the Hot 100.
Jason Mraz has won Grammy Awards and received two additional nominations, and has also won Teen Choice Awards, a People's Choice Award and the Hal David Songwriters Hall of Fame Award.
Jason Mraz Backing Tracks
93 Million Miles … Bella Luna … Butterfly … Did You Get My Message … Everything Is Sound … Geek In The Pink … Have It All … I'm Yours … I Won't Give Up … Life Is Wonderful … Live High … Lucky … Make It Mine … More Than Friends … Plane … Remedy … Unlonely … Word Play … World As I See It … You And I … You Make Me High …