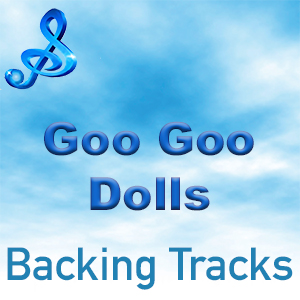 Goo Goo Dolls Backing Tracks – Before It's Too Late … Black Balloon … Iris … Slide …
Goo Goo Dolls – The Goo Goo Dolls are an American rock band formed in 1985 in Buffalo, New York, by vocalist and guitarist John Rzeznik, bassist and vocalist Robby Takac, and drummer George Tutuska. Mike Malinin was the band's drummer from with the departure of George Tutuska in 2013 until December 27, 2019.
They have had several top ten singles on various charts, and have sold more than 10 million albums worldwide. The band have had 10 number one singles on the Billboard Adult Pop Songs chart and four in the Hot 100.
Goo Goo Dolls have been nominated for Grammy Awards, and have been included in the Rolling Stone list of the "100 Greatest Pop Songs Since The Beatles".
The band's tenth album, Boxes was released in 2016. The band's eleventh album, Miracle Pill was released in September 2019.
| Listen | Song Title | Artist | Genre | BV | Price | Buy |
| --- | --- | --- | --- | --- | --- | --- |
The band is also involved in various philanthropic activities, including A Ball For Life, an annual benefit for Roswell Park Cancer Institute, and Music Is Art, a non-profit organisation devoted to providing access to musical instruments and education to youth. The Goo Goo Dolls have also partnered with other charitable organisations such as UNICEF, MusiCares, Music For Relief and The Red Cross.
Go Goo Dolls Backing Tracks
Before It's Too Late … Black Balloon … Iris … Slide …