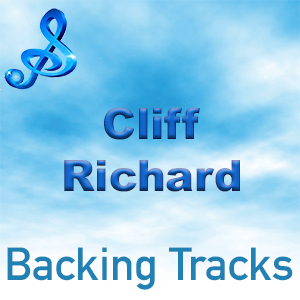 Cliff Richard Backing Tracks – Bachelor Boy … Best Of Me … Can't Keep This Feeling In … Congratulations … Daddy's Home … Devil Woman … Do You Wanna Dance … Don't Talk To Him … Dreamin' … Fall In Love With You … Golden … Gee Whiz It's You … High Class Baby … In The Country … I Love You … I'm Looking Out The Window … I Still Believe In You … It'll Be Me … It's All In The Game … It's In Every One Of Us … Living Doll … Lucky Lips … Millennium Prayer … Miss You Nights … Mistletoe And Wine … Move It … My Pretty One … Next Time … On The Beach … Power To All Our Friends … Rise Up … Saviour's Day … Silhouettes … Some People … Such A Night … Suddenly … Summer Holiday … Thank You For A Lifetime … The Day I Met Marie … Travellin' Light … We Don't Talk Anymore … What A Wonderful World – Somewhere Over The Rainbow …. Wind Me Up And Let Me Go … Wired For Sound … Young Ones (The) …
In early 1958 young rock and roll singer Harry Rodger Webb became Cliff Richard and by August 1958 was signed (with his band The Shadows) to the EMI record label. His first single Move It reached No. 2 in the British charts and he made his television debut on September 13th and began his first UK tour on October 5th. By 1962 "The Young Ones" film had been an enormous success in the many countries where it was released and the follow-up "Summer Holiday" was shot. In 1964 he had five Top 10 hits in the UK singles charts.
On 17 June 1995, Richard was appointed a Knight Bachelor (and invested on 25 October 1995)
Over a career spanning more than 50 years Richard has amassed many awards, including three Brit Awards and two Ivor Novello Awards. Cliff Richard holds the record (with Elvis Presley) as the only act to make the UK singles charts in all of its first six decades (1950s–2000s).
| Listen | Song Title | Artist | Genre | BV | Price | Buy |
| --- | --- | --- | --- | --- | --- | --- |
Sir Cliff Richard OBE (born Harry Rodger Webb; 14 October 1940) is an English singer, musician, actor, and philanthropist who holds both British and Barbadian citizenship. He has sold more than 250 million records worldwide, making him one of the best-selling music artists of all time. He has total sales of over 21.5 million singles in the United Kingdom and is the third-top-selling artist in UK Singles Chart history, behind the Beatles and Elvis Presley.
Richard was originally marketed as a rebellious rock and roll singer in the style of Presley and Little Richard. With his backing group, the Shadows, he dominated the British popular music scene in the pre-Beatles period of the late 1950s to early 1960s. His 1958 hit single "Move It" is often described as Britain's first authentic rock and roll song. In the early 1960s, he had a prosperous film career with films including The Young Ones and Summer Holiday. Increased focus on his Christianity and subsequent softening of his music led to a more middle-of-the-road image, and he sometimes ventured into contemporary Christian music.
Over a career spanning 60 years, Richard has amassed several gold and platinum discs and awards, including two Ivor Novello Awards and three Brit Awards. More than 130 of his singles, albums, and EPs have reached the UK Top 20, more than any other artist. Richard has had 67 UK top ten singles, the second highest total for an artist (behind Presley). He holds the record, with Presley, as the only act to make the UK singles charts in all of its first six decades (1950s–2000s). He has achieved 14 UK No. 1 singles,] and is the only singer to have had a No. 1 single in the UK in each of five consecutive decades. He also had four UK Christmas No. 1 singles, two of which were as a solo artist; "Mistletoe and Wine" and "Saviour's Day".
Richard has never achieved the same popularity in the United States despite eight US Top 40 singles, including the million-selling "Devil Woman" and "We Don't Talk Anymore". In Canada, he had a successful period in the early 1960s, the late 1970s and early 1980s, with some releases certified gold and platinum.] He has remained a popular music, film, and television personality in Australia, New Zealand, South Africa, Northern Europe and Asia, and retains a following in other countries. When not touring, he divides his time between Barbados and Portugal. In 2019, he relocated to the United States.
Cliff Richard Backing Tracks
Bachelor Boy … Best Of Me … Can't Keep This Feeling In … Congratulations … Daddy's Home … Devil Woman … Do You Wanna Dance … Don't Talk To Him … Dreamin' … Fall In Love With You … Golden … Gee Whiz It's You … High Class Baby … In The Country … I Love You … I'm Looking Out The Window … I Still Believe In You … It'll Be Me … It's All In The Game … It's In Every One Of Us … Living Doll … Lucky Lips … Millennium Prayer … Miss You Nights … Mistletoe And Wine … Move It … My Pretty One … Next Time … On The Beach … Power To All Our Friends … Rise Up … Saviour's Day … Silhouettes … Some People … Such A Night … Suddenly … Summer Holiday … Thank You For A Lifetime … The Day I Met Marie … Travellin' Light … We Don't Talk Anymore … What A Wonderful World – Somewhere Over The Rainbow …. Wind Me Up And Let Me Go … Wired For Sound … Young Ones (The) …