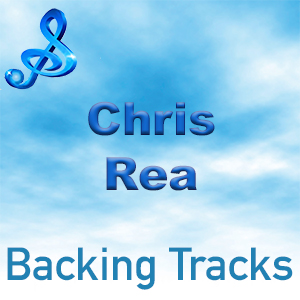 Chris Rea Backing Tracks – Ace Of Hearts … All Summer Long … And You My Love … Auberge … Bows And Bangles … Candles … Driving Home For Christmas … Every Beat Of My Heart … Fool If You Think It's Over … I Can Hear Your Heartbeat … It's All Gone … Josephine … Julia … Let's Dance … Looking For The Summer … Loving You Again … On The Beach … Que Sera … Road To Hell … Shamrock Diaries … Since I Don't See You Any More … Sing A Song Of Love To Me … Stainsby Girls … Two Roads … Windy Town … Winter Song … Working On It …
Chris Rea (born Christopher Anton Rea, 4 March 1951) is an English singer-songwriter and guitarist; recognisable for his distinctive, husky voice and slide guitar playing. He is one of the most popular singer-songwriters of the late '80s and early '90s.
Two of his albums, 'The Road To Hell' and 'Auberge', topped the UK album charts and he was nominated three times for the Brit Award for Best British Male Artist in 1988, 1989 and 1990.
| Listen | Song Title | Artist | Genre | BV | Price | Buy |
| --- | --- | --- | --- | --- | --- | --- |
Chris Rea Backing Tracks
Ace Of Hearts … All Summer Long … And You My Love … Auberge … Bows And Bangles … Candles … Driving Home For Christmas … Every Beat Of My Heart … Fool If You Think It's Over … I Can Hear Your Heartbeat … It's All Gone … Josephine … Julia … Let's Dance … Looking For The Summer … Loving You Again … On The Beach … Que Sera … Road To Hell … Shamrock Diaries … Since I Don't See You Any More … Sing A Song Of Love To Me … Stainsby Girls … Two Roads … Windy Town … Winter Song … Working On It …