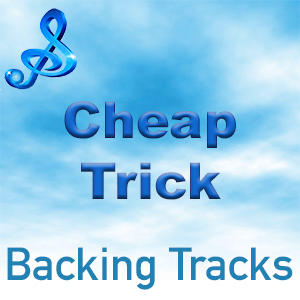 Cheap Trick Backing Tracks – I Want You To Want Me … Surrender … That '70's Song …
Cheap Trick is an American rock band formed in 1973. Their work spanned of '60s guitar pop, hard rock, and punk rock.
They released their self-titled debut album in 1977 and, later that year, found success with the release of their second album, 'In Color'. 1978's 'Heaven Tonight' included the power pop classic "Surrender" which ultimately led the band to achieve mainstream popularity in the United States.
Their 1979 album 'Dream Police' was their most commercially successful studio album, reaching No. 6 on the Billboard 200 chart.
| Listen | Song Title | Artist | Genre | BV | Price | Buy |
| --- | --- | --- | --- | --- | --- | --- |
After experiencing a declining popularity and lineup changes in the 1980s, the group experienced a resurgence toward the end of the decade when they topped the US charts with the single "The Flame".
The band as continued releasing new music into the 21st century.
Cheap Trick have sold more than 20 million albums and was inducted into the Rock and Roll Hall of Fame in 2016.
Cheap Trick Backing Tracks