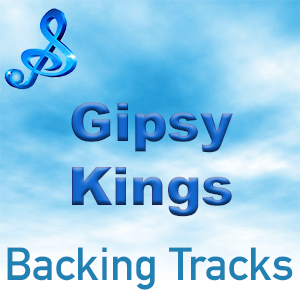 Gipsy Kings Backing Tracks – A Mi Manera (Comme D'Habitude) … Baila Me … Bamboleo … Djobi Djoba … El Mariachi … Eschua Me … la Quiero … Medley (Hit Mix 99) … Quiero Saber … Trista Pena … Volare
Gipsy Kings are a band of musicians formed in 1978. They started out when brothers Nicolas and Andre Reyes teamed up with their cousins Jacques, Maurice, and Tonino Baliardo. Calling themselves 'Los Reyes' the group travelled around, playing wherever they could. They later adopted the name 'Gipsy Kings' because of their travelling habits.
Their first two albums of traditional flamenco music attracted little notice. After employing a new producer the group came up with a more contemporary edge to their sound and in 1987 they released "Djobi Djoba" and "Bamboleo". They released their debut album later that year. It reached the Top Ten album charts in 12 European countries, including the UK.
| Listen | Song Title | Artist | Genre | BV | Price | Buy |
| --- | --- | --- | --- | --- | --- | --- |
The Gipsy Kings have released several albums: Mosaique (1989), Live! (1992), Love & Liberte (1994), Tierra Gitana (1996), Cantos de Amor (1998), Somos Gitanos (2001), and Roots (2004).
They toured extensively before a new studio album 'Pasajero' appeared in 2007, followed later that year by 'Live in Los Angeles'.
The group continued touring before taking an extended break. In September of 2013, the band celebrated its 25th anniversary with the release of 'Savor Flamenco'.
Gipsy Kings Backing Tracks
A Mi Manera (Comme D'Habitude) … Baila Me … Bamboleo … Djobi Djoba … El Mariachi … Eschua Me … la Quiero … Medley (Hit Mix 99) … Quiero Saber … Trista Pena … Volare