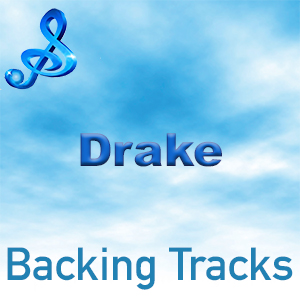 Drake Backing Tracks – All Me … Amen … Back To Back … Behind Barz … Bitches Love Me … Both … Believe Me … Charged Up … Chicago Freestyle … Childsplay … Congratulations … Controlla … Crew Love … Diced Pineapple … Doing It Wrong … Don't Matter To Me … DNF … Elevate … Energy … Fake Love … Fancy … Find Your Love … Finesse … Fireworks … For Free … F..k.ing Problems … Gods Plan … Grammys … Greece … Grindin … Headlines … Hold On We're Coming Home … Hot Line Bling … How About Now … Hype … HYFR … I'm On One … I'm Upset … In My Feelings … Jump … Jumpman … Jungle … Karaoke … Language … Laugh Now Cry Later … Life Is Good … Make Me Proud … Marvin's Room … MIA … Mine … Moment 4 Life … Motto … Mr Wrong … Nice For What … No Lie … Non-Stop … One Dance … Over … Passion Fruit … Poetic Justice … Pop Style … Pop That … Portland … Pound Cake … Practice … Ransom … Rico … Right Above … Right Hand … She Will … Shot For Me … Show Me A Good Time … Shut It Down … Sicko Mode … Signs … Started From The Bottom … Stay Schemin' … Still Fly … Still Got It … Summer Sixteen … Take Care … The Motto … The Real Her … Too Good … Toosie Slide … Trophies … Truffle Butter … Tuesday … Unstoppable … Unthinkable … Up All Night … We'll Be Fine … What's My Name … Whre Ya At … Work … Worst Behaviour … Wu Tang Forever … 100 … 30 Freestyle … 6 God … 0-100 …
| Listen | Song Title | Artist | Genre | BV | Price | Buy |
| --- | --- | --- | --- | --- | --- | --- |
Aubrey Drake Graham (born October 24, 1986) is a Canadian rapper, singer, songwriter, record producer, and actor. Drake initially gained recognition as an actor on the teen drama television series Degrassi: The Next Generation in the early 2000s. Intent on pursuing a career as a rapper, he departed the series in 2007 to follow a successful career in music.
Earning his first Grammy Award for Best Rap Album in 2013, Drake has also won three Juno Awards and six BET Awards. He also occupies the highest number of singles to reach number one on the Hot R&B/Hip-Hop Songs chart.
Drake has developed other ventures, including his OVO Sound record label with long-time collaborator Noah "40" Shebib. Drake acts as a producer under the pseudonym of Champagne Papi. Using the "OVO" moniker, Drake has his own clothing line and his own channel on Beats 1. He is also currently acting as the global ambassador for NBA franchise, the Toronto Raptors.
Drake Backing Tracks
All Me … Amen … Back To Back … Behind Barz … Bitches Love Me … Both … Believe Me … Charged Up … Chicago Freestyle … Childsplay … Congratulations … Controlla … Crew Love … Diced Pineapple … Doing It Wrong … Don't Matter To Me … DNF … Elevate … Energy … Fake Love … Fancy … Find Your Love … Finesse … Fireworks … For Free … F..k.ing Problems … Gods Plan … Grammys … Greece … Grindin … Headlines … Hold On We're Coming Home … Hot Line Bling … How About Now … Hype … HYFR … I'm On One … I'm Upset … In My Feelings … Jump … Jumpman … Jungle … Karaoke … Language … Laugh Now Cry Later … Life Is Good … Make Me Proud … Marvin's Room … MIA … Mine … Moment 4 Life … Motto … Mr Wrong … Nice For What … No Lie … Non-Stop … One Dance … Over … Passion Fruit … Poetic Justice … Pop Style … Pop That … Portland … Pound Cake … Practice … Ransom … Rico … Right Above … Right Hand … She Will … Shot For Me … Show Me A Good Time … Shut It Down … Sicko Mode … Signs … Started From The Bottom … Stay Schemin' … Still Fly … Still Got It … Summer Sixteen … Take Care … The Motto … The Real Her … Too Good … Toosie Slide … Trophies … Truffle Butter … Tuesday … Unstoppable … Unthinkable … Up All Night … We'll Be Fine … What's My Name … Whre Ya At … Work … Worst Behaviour … Wu Tang Forever … 100 … 30 Freestyle … 6 God … 0-100 …