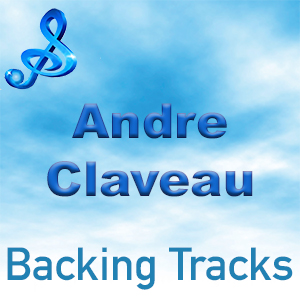 Andre Claveau Backing Tracks – Ceriser Rose El Pommier Blanc … Domino Domino … Le Tango Des Jours Heureux
André Claveau was a French cabaret singer, actor, and comedian. He was also known as the Bebop King of France.
Claveau had an early love of music, participating in a local church choir. He began his professional career as an actor and singer in the theater and cabarets of Paris. He quickly gained fame for his comedic songs and distinctive singing style. He made his record debut in 1938 with the song "Monsieur et Madame", and in the following year, he had his first hit with the song "Auprès de Ma Blonde".
During the Second World War, Claveau's songs provided comfort and a sense of hope to the French people. In 1945, he was made an Officer of the Order of Arts and Letters. In 1949, he had a major hit with the song "Ma Petite Marguerite", and in 1951 he released his first long-playing record.
| Listen | Song Title | Artist | Genre | BV | Price | Buy |
| --- | --- | --- | --- | --- | --- | --- |
Throughout the 1950s, Claveau continued to have a series of hit records, including "Mon Vieux Copain", "Les Croisades", and "Bébé Bom Bom". He also starred in several films, including the 1956 musical comedy "La Vie à Deux".
Claveau's popularity peaked in the 1960s, when he had hits with songs such as "Fais-Moi Mal, Johnny" and "Souvenirs, Souvenirs". He continued to perform and record until the 1980s, and he was one of the most beloved French entertainers of his time. Claveau died in April 2003 at the age of 92.
Andre Claveau Backing Tracks
Ceriser Rose El Pommier Blanc … Domino Domino … Le Tango Des Jours Heureux