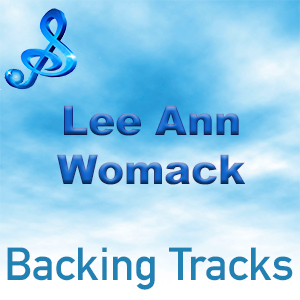 Lee Ann Womack Backing Tracks – Forever Every Day … He Oughta Know By Now … I Hope You Dance … Man With Eighteen (18) Wheels … Mendocino County Line … Solitary Thinkin' … The Fool … Why They Call It Falling … You've Got To Talk To Me
Country music singer songwriter Lee Ann Womack released her debut album in 1997 but it was succeeded three years later by I Hope You Dance, which became her biggest seller to date with the title song reaching the top of the country music charts that year, took the number one spot on the adult contemporary charts the following year and climbed as high as number fourteen on Billboard's Hot 100 chart.
| Listen | Song Title | Artist | Genre | BV | Price | Buy |
| --- | --- | --- | --- | --- | --- | --- |
Lee Ann Womack has released several studio albums and compilations for which she has received Gold certification or higher. Additionally, she has received five Academy of Country Music Awards, six Country Music Association Awards, and a Grammy Award and has sold over 6 million albums worldwide. She has collaborated with many other successful Country artists including George Strait, Keith Urban and Willie Nelson.
Lee Ann Womack Backing Tracks
Forever Every Day … He Oughta Know By Now … I Hope You Dance … Man With Eighteen (18) Wheels … Mendocino County Line … Solitary Thinkin' … The Fool … Why They Call It Falling … You've Got To Talk To Me