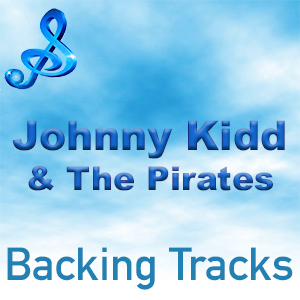 Johnny Kidd And The Pirates Backing Tracks – I'll Never Get Over You … Shakin All Over
Johnny Kidd was born in England in 1940. He was a singer and actor who appeared in a number of films and television shows in the 1960s and 1970s.
He is best known for his work with the band Johnny Kidd And The Pirates who were a British rock 'n' roll band. Johnny Kidd (birth name Frederick Heath), lead singer and primary songwriter, signed a recording contract with HMV and released his first single "Please Don't Touch" in 1959, under the name of Johnny Kidd with his backing band The Pirates. The classic line-up included Frank Farley (drums), Johnny Spence (bass) and legendary guitarist Mick Green.
| Listen | Song Title | Artist | Genre | BV | Price | Buy |
| --- | --- | --- | --- | --- | --- | --- |
Kidd's stage act saw him wearing an eye-patch over his right eye and wielding a cutlass. His Pirates sported colourful swashbuckling gear and played in front of a galleon backdrop.
The group is best known for their track "Shaking All Over" which topped charts and became their biggest hit. Though they never released a full-length album, they released more than twenty singles. The band dissolved after the death of Kidd in a car crash on 6th October 1966. However, the classic line up reformed as an R 'n' B group in 1976 and would perform tours until their ultimate disbandment in 2010.
Johnny Kidd And The Pirates Backing Tracks
I'll Never Get Over You … Shakin All Over