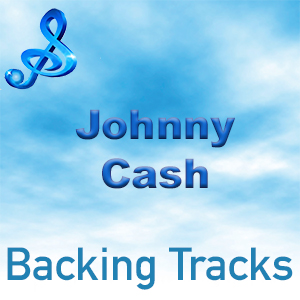 Johnny Cash Backing Tracks – A Boy Named Sue … Any Old Wind That Blows … A Thing Called Love … A Wonderful Time Up There … Ballad Of A Teenage Queen … Ballad Of Ira Hayes … Big River … Cocaine Blues … Come In Stranger … Cry … Daddy Sang Bass … Do My Time … Don't Take Your Guns To Town … Far Side Banks Of Jordan … Five Feet High And Rising … Flesh And Blood … Folsom Prison Blues … For You … Get Rhythm … Give My Love To Rose … Guess Things Happen …
| Listen | Song Title | Artist | Genre | BV | Price | Buy |
| --- | --- | --- | --- | --- | --- | --- |
Johnny Cash
As youngster from a farming family Johnny Cash was used to being surrounded by music whether it be folk, hymns or the tunes sang out in the fields. During his late teens Johnny Cash enlisted in the United States airforce and spent some of his free time entertaining his fellow soldiers with songs he had learned or penned himself.
After leaving the airforce, Johnny Cash managed to get himself noticed by a record label and until his death in 2003 enjoyed musical success mainly in the Country music genre but with cross overs into rock and roll, blues, folk and gospel.
Known affectionately as The Man In Black, his awards and accolades are numerous, including being inducted into several music halls of fame, Grammy, MTV and CMA awards.
John R. Cash (February 26, 1932 – September 12, 2003) was an American singer, songwriter, musician, and actor. Much of Cash's music contained themes of sorrow, moral tribulation, and redemption, especially in the later stages of his career. He was known for his deep, calm bass-baritone voice, the distinctive sound of his Tennessee Three backing band characterized by train-like chugging guitar rhythms, a rebelliousness coupled with an increasingly somber and humble demeanor, free prison concerts, and a trademark all-black stage wardrobe which earned him the nickname "The Man in Black".
Born to poor cotton farmers in Kingsland, Arkansas, Cash rose to fame in the burgeoning rockabilly scene in Memphis, Tennessee, after four years in the Air Force. He traditionally began his concerts by simply introducing himself, "Hello, I'm Johnny Cash", followed by "Folsom Prison Blues", one of his signature songs. Alongside "Folsom Prison Blues", his other signature songs include "I Walk the Line", "Ring of Fire", "Get Rhythm", and "Man in Black". He also recorded humorous numbers like "One Piece at a Time" and "A Boy Named Sue", a duet with his future wife June called "Jackson" (followed by many further duets after their wedding), and railroad songs such as "Hey, Porter", "Orange Blossom Special", and "Rock Island Line". During the last stage of his career, he covered songs by contemporary rock artists of the time; his most notable covers were "Hurt" by Nine Inch Nails, "Rusty Cage" by Soundgarden and, "Personal Jesus" by Depeche Mode.
Cash is one of the best-selling music artists of all time, having sold more than 90 million records worldwide. His genre-spanning music embraced country, rock and roll, rockabilly, blues, folk, and gospel sounds. This crossover appeal earned him the rare honor of being inducted into the Country Music, Rock and Roll, and Gospel Music Halls of Fame. His music career was dramatised in the 2005 biopic Walk the Line.
Johnny Cash Backing Tracks
A Boy Named Sue … Any Old Wind That Blows … A Thing Called Love … A Wonderful Time Up There … Ballad Of A Teenage Queen … Ballad Of Ira Hayes … Big River … Cocaine Blues … Come In Stranger … Cry … Daddy Sang Bass … Do My Time … Don't Take Your Guns To Town … Far Side Banks Of Jordan … Five Feet High And Rising … Flesh And Blood … Folsom Prison Blues … For You … Frankie And Johnny …Get Rhythm … Give My Love To Rose … Guess Things Happen … Hurt … If I Were A Carpenter … I Still Miss Someone … It Ain't Me Babe … I Talk To Jesus Every Day … I've Been Everywhere … I Walk The Line … Jackson … Kate … The Man Comes Around … Man In Black … Me And Bobby McGee … Night Hank Williams Came To Town … One Piece At A Time … Oney … Orange Blossom Special … Personal Jesus … Ragged Old Flag … Ring Of Fire … San Quentin … She Used To Love Me A Lot … Smiling Bill McAll … So Dog Gone Lonely … Sunday Morning Coming Down … Thanks A Lot … Understand Your Man … Wanted Man … Ways Of A Woman In Love … When The Man Comes Around … Why Me Lord … Wreck Of The Old 97 … 25 Minutes To Go …