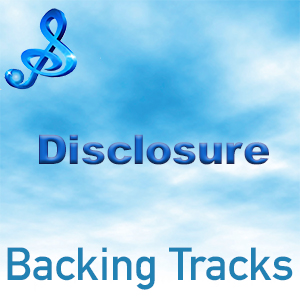 Disclosure Backing Tracks –Bang That … Holding On … Latch … Magnets … Omen … White Noise … You & Me …
Disclosure are an English electronic music duo consisting of brothers Howard and Guy Lawrence. The siblings grew up in Surrey. Their debut studio album, Settle, released on 3 June 2013, was nominated for Best Dance/Electronica Album at the 2014 Grammy Awards. They released a second studio album, Caracal, on 25 September 2015 which was nominated for Best Dance/Electronica Album at the 2016 Grammy Awards.
As children of professional musicians, the boys were surrounded by music and Guy started playing the drums at the age of three, and Howard started playing the bass at the age of eight. Both also learned to play the guitar and the piano and Howard to sing. They both attended a local college studying music and music technology.
Following the success of their debut studio album in 2013 and a worldwide tour, the duo began working on their second studio album featuring vocals from (among others) Sam Smith, Lorde and Gregory Porter. The album earned the group their second consecutive number one album in the UK Albums Chart.
In 2017 the duo took a break from producing and performing (save a few guest appearance) but in 2018 they announced that they had been back in the studio and a third album would be released in due course.
| Listen | Song Title | Artist | Genre | BV | Price | Buy |
| --- | --- | --- | --- | --- | --- | --- |